January 23, 2022
Posted by:

Virg Cristobal

Category:

Finance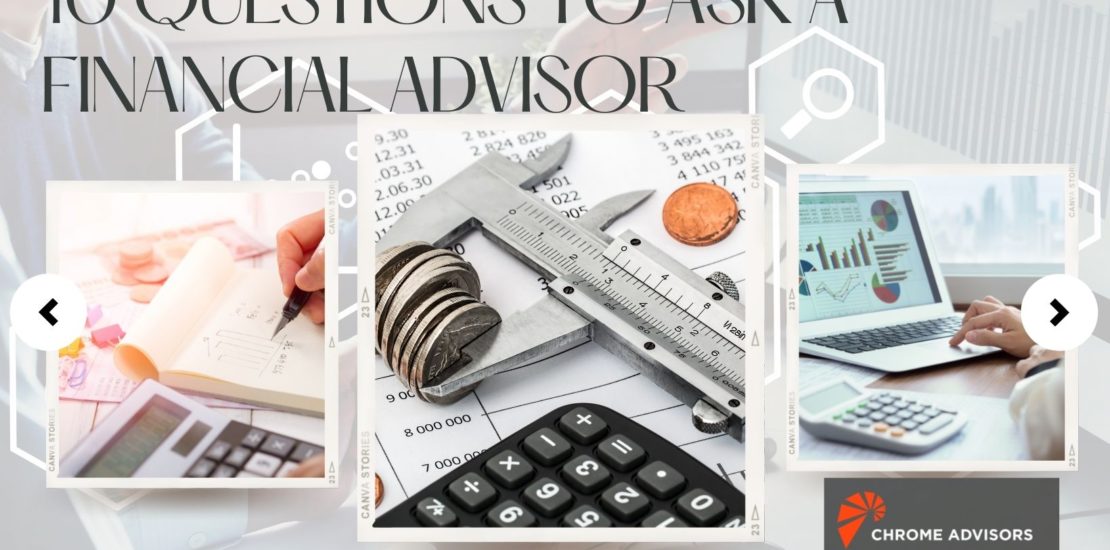 As a financial advisor, wealth management company and financial planner, it's important that what we do fits with your lifestyle and your future goals and while we do this for dozens of families, not every fit is ideal. Each person works a little differently with their clientele so it's important to ask questions, get a feel for how they do business, and really make sure that each person understands the ultimate goals and future results. If you are currently looking for a financial advisor, life planner, or wealth management consultant, here are 10 questions to keep in mind when interviewing potential candidates.
#1. Ask what you're really looking to get out of the relationship.
This is not necessarily a question for the financial advisor but more for yourself. Do you want personalized financial advice? Are you looking to sit down in person and discuss future goals? Are you looking for a life coach or life planner rather than someone that knows the ins and outs of your finances? Do you want a wider array of financial advice and someone to help you with complex situations such as stocks, liabilities and equity compensation? Truly understand what it is you're looking for and if you're not sure, talking with different advisors about what they offer can help narrow down the goals.
#2. Are you a fiduciary?
The goal of a financial advisor is to work in the best interest of the client whereas non-fiduciaries only recommend products that might be suitable even though they may not be the best. Fiduciaries will work for the best interest of the client and specifically with their needs rather than just offer resources to find your own information.
#3. What are the costs?
In addition to paying your advisor there may be other fees so it's important to understand what you'll be paying overall. Will it be flat fee services or an hourly fee?
#4. What are your qualifications?
All of the letters behind someone's name mean nothing to the client if they don't understand what those qualifications actually stand for. An investment advisor, CFP, CPA, or financial planner may have different skill set's so it's important that you understand what their qualifications are and stay within their niche. Most financial advisors will be proficient in a few different avenues but maybe not all.
#5. How will the relationship work?
What will your Access look like with the advisor? How will they communicate with you? Do they communicate on your terms and with your avenue of communication? Do they bother you or give you just enough information on a regular basis to keep you informed and moving on the right track?
#6. Do they invest themselves?
Really good investors and financial planners will also be good with their own finances. Ask about their own investment philosophy to make sure their values are the same as yours. You want to know that they believe in what they're doing as well not just because it's something you want to do.
#7. How will you diversify?
Talk about asset allocation and diversification. You want to create a diversified portfolio and provide asset income from a variety of sources. You don't want someone that simply puts all your eggs into one basket.
#8. How will the reporting take place?
What will the investment benchmarks look like? Some financial advisors will use a straw-man benchmark but if that advisor is investing in a diversified portfolio the benchmark may be mismatched.
#9. What or who is your own custodian?
An independent custodian such as a brokerage will hold your investments rather than act as his or her own custodian. Talk about how the brokerage works as a whole and who your investor or advisor pays into.
#10. What about taxes?
A good financial planner will help you work around taxes and find the best way to maximize your income and minimize loss. This could mean moving money around at the right time, legally constructing tax write-offs in certain stock setups for the best return without losing all of your money to taxes.
As your financial advisor, we want to make sure that you are comfortable working with us, understand where your money is going, and that you know we work for your best interests. For more information or to set up an interview or consultation with Chrome Advisors, contact us at any time.
More Chrome Advisor Information:
4 Ways Young Rising Professionals Can Care for Aging Parents
Equity Compensation for Employees
10 Reasons Young Professionals Should Have a Last Will and Testament
Do We Need to Think About Estate Planning?
Should you buy or lease a new car?
Where to Begin When Starting a Budget
Pros and Cons to Leasing a House