September 16, 2021
Posted by:

Virg Cristobal

Category:

Equity Compensation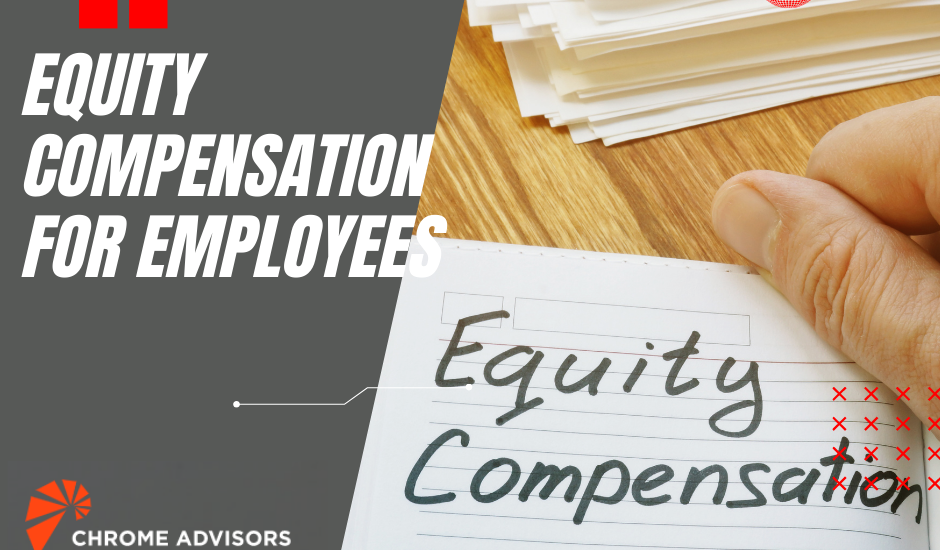 What is Equity Compensation?
Equity compensation is a non-cash payment offered to employees of specific companies. It can include a variety of different types of compensation such as restricted stock options, performance shares, or investments. This basically gives employees partial ownership in the company.
The main benefit is that it has the potential to boost employee's long-term financial goals. While the logistics can be complex, understanding the compensation and having a knowledgeable and experienced wealth management team come alongside can alleviate some of the stress and confusion that go along with equity compensation. Related: Should you accept equity as compensation?
The four main types of equity compensation
Stock Options – typically categorized as either Incentive Stock Options or ISOs Or Non-statutory Stock Options NSOs, also referred to as Nonqualified Stock Options.  An incentive stock option is a corporate benefit that gives the employee the right to buy shares in the company at a discounted price with the added benefit of possible tax deductions on the profit. A non-statutory stock option, also known as the Non-Qualified Stock Option, can be used by more mature companies for higher-paid employees as well as contractors and consultants. However, these don't benefit from the potential corresponding tax benefits that incentive stock options do.
Restricted Shares – typically structured as either Restricted Stock Units RSUs or Restricted Stock Awards RSAs. These are shares in a company-issued to employees as part of their pay but cannot be fully transferred to the employee until certain conditions are met.
Performance Shares – is available to executives and directors after certain performance goals are met. It incentivizes executives and directors to focus on work that increases the shareholder value.
Employee Stock Purchase Plans – a company-run program where employees can purchase company stock at a discounted price. Each employee contributes to the plan through payroll deductions and the employee can use accumulated funds to purchase stock in the company.
With all of this information, what can an employee actually do with equity compensation?
Equity compensation can be used by employers as a strategy to improve a business's cash flow. Instead of offering a salary to its employees, or in addition to a salary, equity compensation could allow the employee to have a partial stake in the company with certain terms. It's a good way to offset paying employees below market value with the potential to earn much more on the backend.
Each company pays out its equity in different ways. Vested equity requires awaiting. Where is granted stock is usually available right away. Most companies will offer a lower salary and favorable equity terms, which can be a winning combination for the employee. It can be difficult to distinguish between favorable and unfavorable terms, however, which is where Chrome Advisors come into play. We can help navigate the sometimes confusing legal jargon associated with equity compensation.
Choosing an investment advisor to explain, navigate, and help invest equity compensation is key to completing the financial goals necessary for your future financial freedom. Whether you are an employer setting up equity compensation plans or you're an employee with several choices on your hands about potential equity compensation alternatives, let one of our advisors explain the program and see where we can help partner with you and tailor a plan that gets you where you want to be.
Related: 9 Financial Must-Haves
Contact Us Now