December 2, 2021
Posted by:

Virg Cristobal

Category:

Finance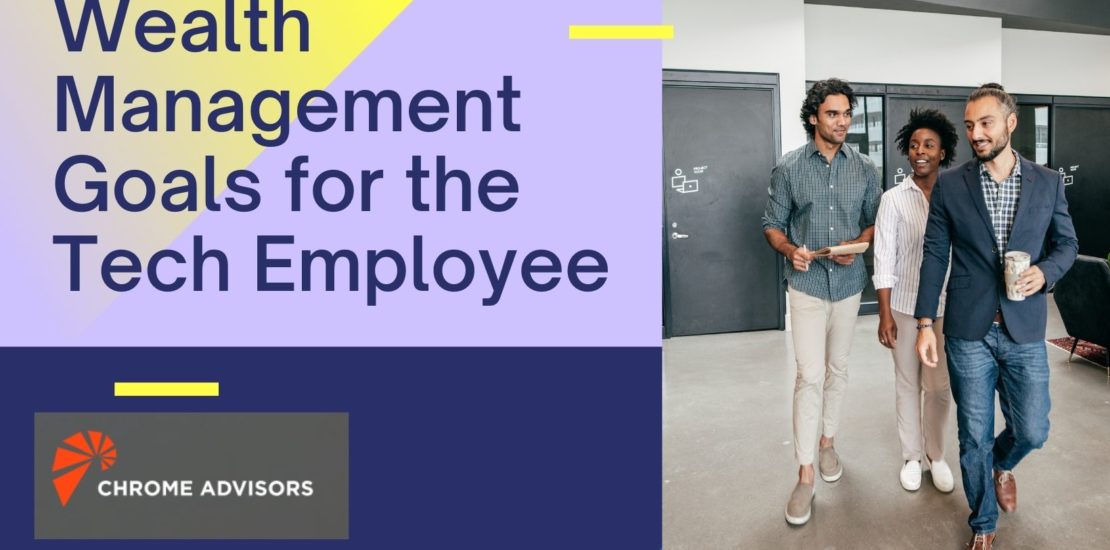 If you are in the software or technology industry, a wealth advisor can help save and invest for your future. The technology field requires careful planning and there's a number of circumstances that are unique to this type of industry. From stock options such as ISOs and restricted stock units to taking advantage of financial opportunities, understanding wealth management and how to maintain the trajectory of growth is key to completing your financial goals.
What are wealth management goals?
Goal-based investing or also known as GBI, involves a wealth financial manager that can measure progress toward specific life goals. Whether it's saving for your children's education, building a retirement nest egg or focusing on generating the highest possible portfolio return in the market, using a wealth management system and advisor can be the key to getting over the hump or really completing your financial goals in a successful manner.
As a wealth management firm, we assist with all types of situations to help our clients in the tech industry and software space plan for the future. This may include managing stock options, restricted stock units, and other equity compensation. This might mean consolidating old 401(k) plans and other investment accounts into a unified investment strategy. Chrome Advisors can evaluate benefits packages and explain the sometimes confusing legal jargon that comes along with stock incentives.
Chrome Advisors can help with retirement planning and income projections, how to invest windfalls or certain financial bonuses, simplify and organize your financial goals, and create tax-efficient investing.
Let's break these down in a little more manageable chunks.
Managing stock options.
If your company offers incentive stock options either restricted or general ISOs, this might be a confusing field without the help of someone that knows the system and can help explain it. Working with a financial advisor experienced with employee stock option plans and managing sudden wealth from an IPO or acquisition can put you on the right trajectory towards your future financial goals. Deciphering which stock options might be better suited depending on your current stage of life and projected outcomes can help you make better-informed decisions for both now and in the future.
Consolidating old 401(k) plans.
If you recently changed jobs were industries you may be able to move a 401(k) plan into a better system. Some of these plans may not have the projected outcome you want and we can decipher and research what you currently have versus where that money could be better spent for the future. Perhaps in a more aggressive situation or stock options or simply to consolidate everything and make it easier for the future.
Retirement and income projections.
There's nothing more important than planning for retirement and the future. Moves you make today can have a lasting impact and as a wealth management professional, specifically for the tech industry, we can help project those goals, predict them, and set you up for success now. The sooner your money is working for you the better will be at retirement.
Tax-efficient investing.
Every investment comes with a cost and taxes can be some of the most expensive expenses out of your returns. Tax-efficient investing can minimize the tax burden and maximize your bottom line setting you up for future success. Tax-efficient investing becomes even more important when your tax bracket is higher and there are certain investments that are tax-efficient that should be made in taxable accounts. While all this can be a little overwhelming, using a wealth management company for tax-efficient investing will save every penny you possibly can earn.
Managing your financial goals for the future doesn't have to be difficult but it also doesn't mean you have to do it alone. Your job is focusing on your family and your wealth acquisition. Our job is to make sure every dollar you make is working towards your ultimate financial goal. Let us do the heavy lifting for you while you focus on your family and your business.
More Chrome Advisor Information:
4 Ways Young Rising Professionals Can Care for Aging Parents
Equity Compensation for Employees
10 Reasons Young Professionals Should Have a Last Will and Testament
Do We Need to Think About Estate Planning?
Should you buy or lease a new car?
Where to Begin When Starting a Budget