September 17, 2021
Posted by:

Virg Cristobal

Category:

Insurance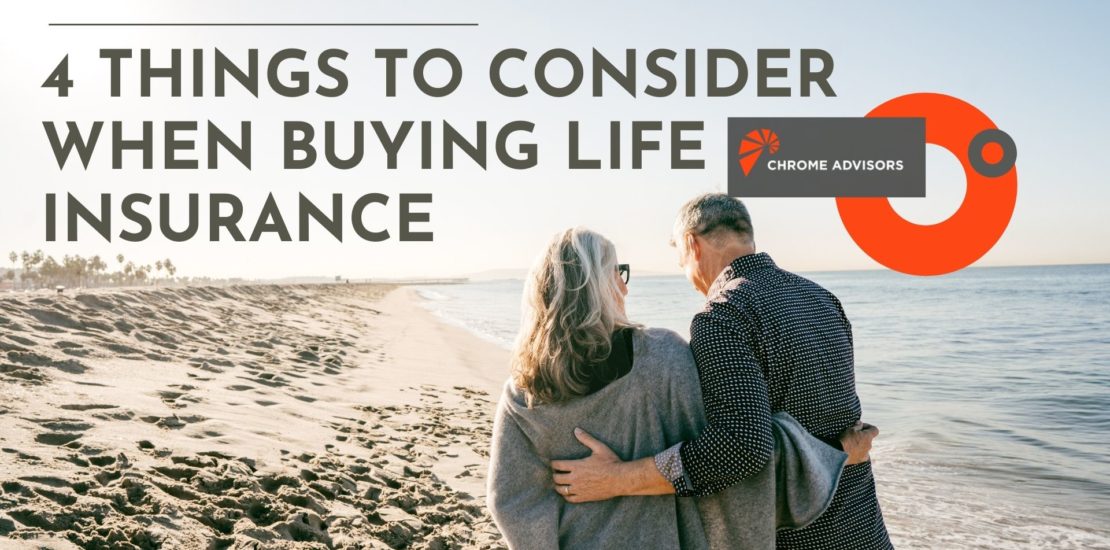 Planning for life insurance is a big deal. They can also get a little overwhelming and confusing. At Chrome Advisors, we want to make this process as easy and as stress-free as possible. Our advisors are here to help you make informed decisions in the best ones for both your future and your family's future. When looking up and researching life insurance, here are what we think are the most important things to consider.
#1. Decide if you really need life insurance.
What is life insurance for? It's typically for those left behind to deal with financial burdens and responsibilities upon your passing. It is designed to provide financially for any dependents but it can also be used for benefiting a charity or keeping businesses going, especially if certain or key employees pass away. If none of these items apply to your situation, life insurance may not necessarily be needed. It's important to talk through all the logistics about what life insurance would mean for your family and your business.
#2. Decide which life insurance works for you.
There are several different types of life insurance:
Permanent life insurance covers the whole life and universal life and is typically more expensive than term life insurance but with more benefits. Permanent life insurance policies accumulate cash value over time. A portion of your premiums can grow tax-deferred. Companies may offer different investment options to help that cash grow faster but not all policies can accumulate that cash value at the same rate. The advantage is that you can actually take out loans or make partial withdrawals against the life insurance policy using that cash value to cover premiums if necessary. However, doing so can significantly reduce your death benefit if you die before the cash value is replenished. This can be a risky situation.
Term life insurance is probably the most common and affordable covering up to certain terms such as 10 years, 15 years, or even up to 30 years or more. This can be a great option for parents that want to ensure their children are provided for until adulthood. It can also be a good option for beneficiaries and spousal support after the death of a spouse. However, once the term is done, the policy is worthless but many life insurance companies have the option of converting a term to a permanent one and moving into a whole life or even a universal life plan.
Whole Life insurance is similar to permanent with consistent premiums and guaranteed increase of the cash value but it also may be eligible for dividends from a mutual company and is more expensive than term and permanent. Whole life insurance can be very flexible but that can also make it confusing. Each policy is unique and some will require payment until your passing. Some policies can ensure the policyholder for life with one large premium payment, but this is definitely something that should be discussed with your financial advisor.
Universal Life insurance is permanent coverage that builds cash with investment options. Variable and indexed universal life insurance are two distinct kinds of universal policies that have different payouts and cash values.
No exam life insurance is exactly what it sounds like; you won't need to take a medical exam to be approved although you will need to answer questions about your health and medical records. This may be one of the least expensive and can be built into term as well.
#3. How much life insurance do you need?
Once you've determined that you do need life insurance and what kind, it's important to understand how much you'll actually need. How much financial assistance will your loved ones need after you die? You'll need to add in things like Social Security and any other retirement-related survivor benefits. You'll need to know final expenses, debts, and income needs until or when your loved ones can support themselves.
Questions to ask a life insurance company:
Our policy premiums guaranteed level, flexible, or do they increase?
Is a medical exam required?
Are policy fees built into the premium?
Can policies be converted to whole life or universal policies?
Does the policy have a cash value and does it accumulate?
Is the policy eligible for dividends?
Are there any riders or addendum to the policy?
How many beneficiaries can you have?
#4. Ask about riders
A rider is a provision of an insurance policy that will add benefits and may be restrictions to the policy. They can customize coverage making a policy flexible for individual needs. However, these riders do cost extra so you must consider the benefit of a rider compared to the cost. Many are designed to provide certain benefits when specific situations occur such as an accelerated death, accident, business death, or medical issue.
One of the most common is a disability waiver of premium rider. This means that the insurance company will waive premium payments for a certain period of time if the policyholder becomes disabled. Some riders will even double or increase the insurance benefits if the policyholder dies in an accident or a specific tragedy.
Other common riders include long-term care, access to death benefits for long-term care needs, term conversion, or converting to a permanent policy. Again, this can be very confusing, which is why it helps to have a financial advisor come alongside and explain all the details of where you might need a rider and where you can forgo one.
If you are just as confused as when you started this article, try not to get frustrated. That is what we are here to help explain. Helping with life insurance, the type of policies, what you really need for the future, is everything that we do. Not only do we help with equity compensation for employees and investors but with those in the tech industry that are looking to support and protect their family for years to come. Feel free to give us a call at any time to discuss life insurance policies, the best options, and what works for you and your family.